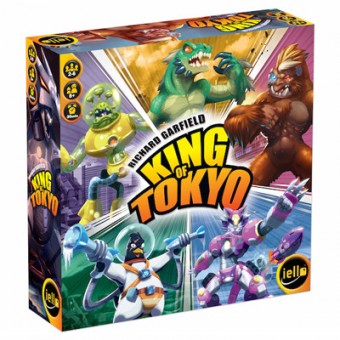 Beschikbaarheid:

Op voorraad

Model:

IEL51314NL

Levertijd:

1-2 werkdagen

Merk:
Omschrijving
De vijfde verjaardag van King of Tokyo brengt een nieuwe uitgave van het populaire spel van Richard Garfield!
In deze nieuwe, Nederlandse editie kruip je wederom in de huid van maniakale monsters, razende robots en angstaanjagende aliens die strijden voor dominantie in een leuke, chaotische omgeving. Werp de dobbelstenen en bepaal je strategie: wil je je vijanden aanvallen? Je verwondingen genezen? Je monster nieuwe vaardigheden geven? De weg naar de overwinning zit vol gevaren!

Vernietig alles en iedereen op je pad en word de enige echte King of Tokyo!
Leeftijd: 8+
Spelers: 2-6
Speelduur: 30 min.
Beoordelingen (0)
Beoordeel
Note: HTML-code wordt niet vertaald!

Verder